Limited Platinum VIP Units are Now Available. Call 647-293-2383 to Reserve a Unit.
The Toronto suburb of Vaughan is currently undergoing an ambitious makeover in the form of the Vaughan Metropolitan Centre (VMC). This master-planned, purpose-built central business district will occupy a massive plot of prime real estate at the between Highway 400 and Jane Street along the North side of Highway 7.
Transit City Condos 4 (TC4) will be the first tower of the 2 nd phase in the VMC following on the successful sellout of the first 3 Towers in phase 1 in 2017. This new tower will add another luxury residential high-rise with approximately will add 530 premium residential suites by the development experts at CentreCourt to the VMC. Investors and GTA residents considering a move to Vaughan will be keeping a close eye on these state-of-the-art towers, which will be feature elements of the VMC.

Owing to its designation as Tower 4 of VMC's master-planned residential component, Transit City Condos is alternately known as Transit City 4. This soaring, ultra-modern high-rise will hold particular appeal to sophisticated buyers seeking upscale suites in a suburban setting outfitted with a complete lineup of urban conveniences. Vaughan Metropolitan Centre will open in phases as segments of the visionary development are completed, and this development offers outstanding investment potential. VMC will invigorate the local economy, adding thousands of new jobs and helping transition Vaughan from its long-held status as a bedroom community to a thriving and successful GTA commerce and lifestyle destination.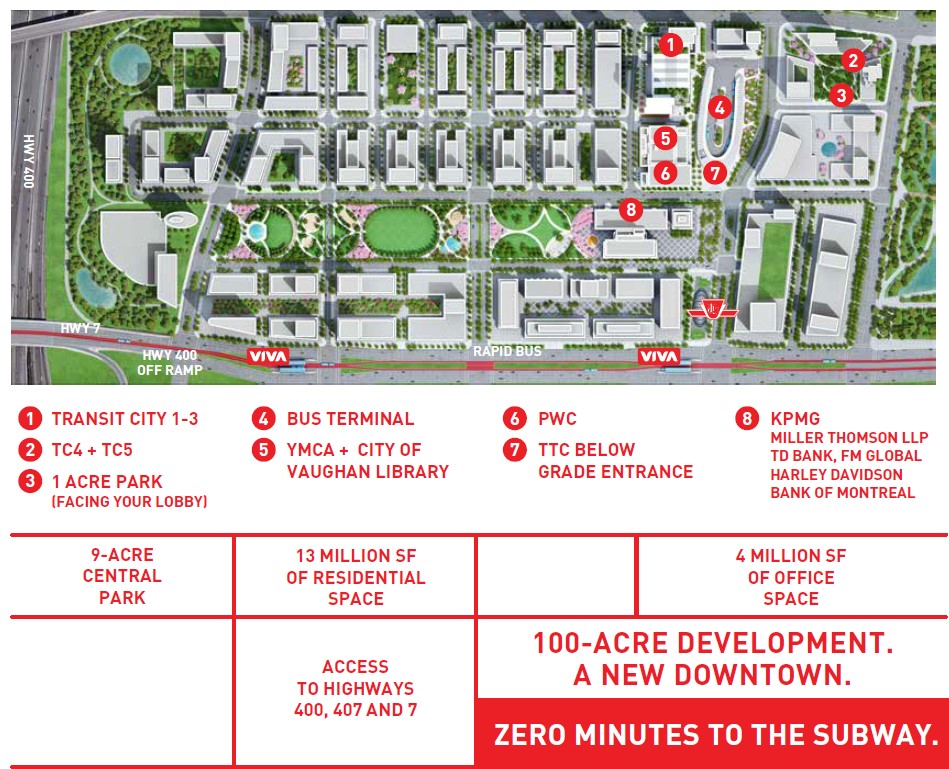 45 Stories – 530 Units

530 sf – 1015 sf

1.5 million sq.ft of office and commercial facilities

From High $300,000's

1 – 3 Bedroom suites

A stunningly landscaped 9-acre park


A culture, entertainment, and nightlife hub including a Cineplex theatre and a Dave & Buster's entertainment arcade

Plenty of dining options for people of all tastes, from high-end restaurants and intimate date spots to casual and family-friendly eateries

Pharmacies, cafes, banks, professional services, supermarkets, and other essential conveniences

More than 750,000 sq.ft. retail facilities including Walmart, Lowe's, and Home Outfitters locations
Limited Platinum VIP Units are Now Available. Call 647-293-2383 to Reserve a Unit.
Centre Court ONE OF CANADA'S LEADING DEVELOPERS
Centre Court is focused on the development of high-rise residential communities located near major amenities, rapid transit networks and employment areas across the Greater Toronto Area (GTA). Centre Court are a fully integrated organization that operates across all areas of development including land acquisition, zoning, design, sales, construction and customer care. Centre Court are one of the most active high-rise developers in the GTA and we currently have 15 high-rise residential projects in various stages of development, collectively representing over 7,000 homes and over $3.5 billion dollars of development value. Centre Court vision is to be the premier high-rise residential developer in the GTA by holding ourselves to the highest standards of excellence and constantly exceeding the expectations of our customers.
Centre Court developments are collaborative endeavours undertaken with best-in-class planners, architects, interior designers and construction trades and the homes that we develop are of the highest quality standard. Centre Court take great pride in the positive impact that our developments have on their home owners and the communities that they are a part of. We are accountable to our customers, communities, capital partners and each other for the work that Centre Court produce and the actions that Centre Court take.